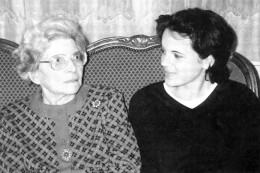 Just after the founding of the project group 'Jewish Cemetery', correspondence with Jews whose relatives were buried in Solingen before 1941 were established.
June 30, 1988
Our first letter went to Ilse Shindel to London:
Dear Mrs. Shindel!

Last year the Comprehensive School of Solingen took over the sponsorship for the closed Jewish cemetery at Erbenhäuschen. In consultation with the Jewish community of Wuppertal we – a small group of students (12-13 years old) – visit the cemetery once a week to take care of the final resting places of our former Jewish citizens.

At school and at home we heard about the incredible injustice done to the Jews in Solingen. We wish to advocate to never again let incomprehension and hate rule our behavior towards our fellow human beings, but understanding and love.

At the town archive of Solingen we learned that you are the daughter of Alexander and Helene Leven. We also learned that your relatives from Remscheid (Albert and Rosalie Leven) must have been buried at the Jewish cemetery of Solingen. So we did some research and found the four grave sites. Apart from that we know nothing about you. That's why we would appreciate very much if you sent us a message, but we would also be thankful for a little sign of life.

With kind regards from your hometown of Solingen: the students of the Comprehensive School of Solingen
July 20, 1988
Ilse Shindel, who was able to escape to England shortly before the war broke out, writes from London:
I believe there are no words that could express my feelings, but at least I can say, that I was and still am deeply touched about your letter… You really gave back the faith in human kind to me by these lines.
September 7, 1988
Eva Schaalmann, who emigrated at ten years old with her parents to Brazil, writes from Sao Paulo:
Your letter, dear Anja, moved deeply and I appreciate your interest (…) When we had to leave Germany in 1936, to say good-bye was very hard for my parents Karl and Erna Isaac and my then six year old brother, and most of all for me, a then ten year old girl, old enough to know what such a good-bye means, the break-off from my friends, the parting from Germany, my school and my classmates, who prepared a wonderful farewell party for me.
February 14, 1989
Karola Schlussel, granddaughter of Jenny and Georg Giesenow, survived in hiding during the war, writes from Brussels:
I was very emotional, when I read the letters from you and Juliane H., where you wrote that you will take care of the Jewish cemetery in future, to clean the grave sites. (…) I would appreciate very much if you could plant some flowers, …
May 30, 1989
Sela Trau, born in 1898 in Solingen, escaped the Holocaust by emigrating in the 1930s, writes from the island of Tasmania:
Please let me sincerely thank you for your generous attitude and your project. I am very thankful that such a personal experiment was realized, that there is someone who shares a part of my life and the faith in the possibility of a better world.
September 1, 1989
Hans Hellmut Reiche, great grandson of the honorary citizen of Solingen Gustav Coppel, writes from Hilden:
We want to thank you for the love, the understanding and also the time and the activity you put into your project to take care of the Jewish cemetery of Solingen. A fact that is not self-evident for us older and affected people. Maybe that is why we appreciate it even more. (…)

And what a beutiful principle is guiding your work and the project, words that let us hope. May they not just blow in the wind but meet with a response!
April 23, 1990
Ursula Hirschberger née Coppel, a great granddaughter of the honorary citizen Gustav Coppel, emigrated to Switzerland in 1934 as a little girl together with her parents. She writes from Munich:
I know about the project group that is taking care of the Jewish cemetery for a year now. The news of this handsome action touched my deeply and gladdened me a lot. I can't express how wonderful it is, to hear about young people committing themselves to such an initiative…. Give my kindest regards to all of these busy young people from the project group; tell them my respect and admiration for their action. This attitude is heart warming… .
February 2, 1992
Hanna Wechselblatt née Feist, emigrated to Sweden with her parents when she was a little girl, writes from Stockholm:
It's encouraging that there are young poeple who have ideals. (…) They say that a man is a whole world. Who kills one man kills the whole world. But also who rescues one man rescues the whole world. The members of your project group were not able to rescue anyone in those past horrible years because they were not born yet, however they are doing it now: They rescue the memory of their late  fellow citizens in honor. You can hardly imagine something more noble.
January 12, 1994
Carl-Anton Reiche, great grandson of the honorary citizent Gustav Coppel, asked about his emigration, writes from North Carolina, USA:
My brother and me received priviledged visas in Frankfurt/M. being persectutees of the Nazis and left from Bremerhaven on board a decommissioned US-troup transporter, very primitive, landed on May 23, 1946 in New York. Being the first ship that reached the USA with civilians after the war we were welcomed by the famous mayor Fiorello La Guardia.